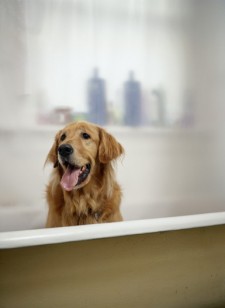 Please be aware that our ability to provide shave-downs and bathing is limited during NY Pause due to increased demands on our staff as we provide curbside service to our clients.
We offer both medicated and non-medicated baths and shave-downs for matted dogs and cats.
Non-medicated baths provide a 'freshening up' of your pet to remove odors and dirt. A quick trim of feet and 'feathers' helps keep your pet looking neat while decreasing the amount of dirt and mud they track into the house!
Your pet got skunked? We can help! We have a special recipe that works like a charm to remove that horrible and persistent odor. We understand your urgency when scheduling these baths so we will be sure to do our best to accommodate your request!
Medicated baths are used to treat specific skin or coat conditions including fleas, allergies, seborrhea and others. Once a diagnosis of your pet's skin condition has been made by one of our veterinarians, we can prescribe a shampoo designed to treat your pet's problem and get them feeling better quickly. Medicated baths require 5-10 minutes to 'soak in' which can be a lot of fun if your pet does not like baths! So let us do the work and make sure your pet receives the best care.
Our staff can offer a sanitary trim or a full shave down for matted pets. If your pet gets stressed for grooming, our veterinarians can provide a safe and calming sedative.