March 23, 2020: As of March 23, 2020 we are temporarily suspending boarding and PlayCare services.  Please check back periodically to see when we will be able to provide these services again.
A one-on-one play date for your dog!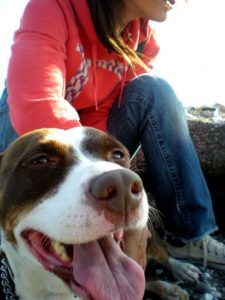 Like a traditional doggie daycare, you can leave your dog with us for the day, Monday through Saturday. However, unlike traditional daycare, we'll give your dog individual, one-on-one time. Let him play with safe toys inside, chase a ball or Frisbee in our secure fenced-in area or simply receive love and petting with one of our team members for 15-20 minutes three times a day. Individual attention and reward-based training techniques will help reinforce your dog's good behavior. We also offer treadmill work-outs for fitness, to prevent boredom or to promote weight loss. (Dogs usually take to the treadmill quickly and we will be careful to increase your dog's workouts slowly.)
We continue to offer boarding with large comfortable runs or kennels for dogs and a separate boarding area for cats. We can also provide PlayCare for your cat during her stay with us. A team member will play with toys or allow your kitty to explore the cat PlayCare area, hang out on the kitty condo or spend some "lap time" receiving petting and attention three times a day. There is no better place to board your pet than a veterinary clinic where the staff is trained to be alert to health issues your pet may have. Let us know if you would like your pet to have a bath or a trim while they're here – make it a spa day!
Contact us for availability and prices or if you have any questions or special requests.